Professional dental cleaning in Munich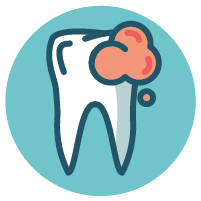 An important cornerstone of our practice philosophy in Munich is prophylaxis to avoid treatment from the ground up. Regular check-ups and professional tooth cleaning (PZR) help to avoid treatments or to keep their extent only small. The PZR follows a modern concept with cleaning by ultrasound, gentle powder blasting (Airflow), fluoridation and tips and instructions for home dental care by our well-trained prophylaxis assistants. Of course we pay attention to adequate protection from spray mist with special covers and keep hot (cool in summer) cloths ready.
When cleaning your teeth, you can, of course, have a regular check-up.
We would also be happy to remind you at regular intervals of your upcoming dental cleaning, by SMS, e-mail or letter.
Costs
The costs of professional dental cleaning at our Munich office are usually covered by private insurance or supplementary insurance. Some statutory health insurance companies reimburse at least a part of the costs. For those with statutory health insurance, the personal contribution is approximately 90-120 Euros (depending on the effort involved; it is calculated according to the dentist's fee schedule).