Plan and fabricate dentures entirely without an impression? This is easily possible with CEREC denture treatment in Munich, which uses the latest technology for digital treatment. In a single session professional, fast and precisely fitting models can be created for dentures or inlays. For radiant teeth and a greater sense of well-being - of course, without having to suffer for it or wait long.
What are CEREC dentures?
CEREC is an abbreviation for Ceramic Reconstruction. The digital form of treatment is supported by a computer and state-of-the-art programmes and, in keeping with the name, provides ceramic dental restorations. The exact details of the technology we use can be found further down the page. With this technology, whole teeth, inlays, crowns and bridges can be created within a short period of time and can be placed precisely.
The difference with this form of treatment is the fact that the entire recording of the teeth and creation of the restoration works digitally. This involves significantly less time and discomfort for the patient than would otherwise be the case. A CEREC treatment usually takes only 90 to 120 minutes and you can leave our practice in Munich with your new dentures.
What are the advantages of CEREC treatment in Munich?
A major advantage of CEREC dentures in one session is without question the reduced time required to make a denture. The use of impressions in particular is less pleasant for many patients and sometimes leads to gagging or attempts to avoid it.
There is therefore no need to worry about gagging during CEREC denture treatment, which makes it directly much more pleasant than the classic procedure. Other advantages of CEREC are the following, which should be noted:
relatively inexpensive
Precisely adapted solutions
High-quality and optimally compatible option
Quick and easy solution - also for patients who tend to shy away from the dentist
Natural appearance due to colour matching with the neighbouring teeth
most modern and almost completely painless solution without further detours
the denture can be completed within one session
the results can be shown on the screen beforehand - for an exact adjustment
Dental prosthesis in one session with CEREC with us in Munich
Often, in the case of tooth loss as well as most restorations, patients have to live with a temporary solution for the time being. This is anything but pleasant for many patients, especially if there is clearly visible damage to the tooth or visible tooth loss. What is particularly noteworthy is the fact that CEREC dental prosthesis treatment can provide a permanent and non-temporary solution in just one session.
CEREC denture treatment is the combination of speed and precision. While conventional procedures often require several sessions and weeks of waiting, the patient can achieve a perfect result in a short time. For those who value time savings, comfort and quality, CEREC dentures in one session offer the ideal solution.
Natural and long-lasting with ceramic
In addition, the ceramic material used is characterised by the fact that it is almost invisible and can be visually matched to the rest of the teeth very easily. Last but not least, there is no need to worry that short durability is the result of this quick solution.
According to experience, the said dental restoration lasts more than 30 years and can thus be used even longer than gold. It is therefore less surprising that gold is no longer used so much in dental restorations. Ceramic is characterised by a correspondingly great hardness, does not discolour as easily and also does not cause dark edges at the gum line.
Procedure for CEREC denture treatment in Munich
In the first step, we determine together in our practice what the current situation of your teeth looks like. To do this, we use our modern, three-dimensional camera, which records exactly what your teeth are like, what needs to be taken into account and what dimensions the denture or inlay must have.
Thanks to the latest technology, all important data is recorded and made available in the shortest possible time, which is much faster and more accurate than could ever be the case with a classic dental impression. In the next step, our software creates an exact image of the respective tooth based on the available data.
This data is then used by our special machine, which produces the denture, which then only has to be colour-matched to the neighbouring teeth and precisely milled. An inlay or a corresponding denture made in this way is inserted into the prepared gap or the respective tooth. After polishing, the CEREC treatment is completed and no further session is required for the restoration.
The latest technology with CEREC dentures
For an optimal fit with our patients, it is important to use the latest technology that brings exact results. In our practice in Munich, we use both the Prime Scan Scanner and a Primemill milling cutter. These technologies bring the advantage that the teeth are scanned exactly and the dentures are milled just as precisely. In addition, we only use high-quality materials that are well tolerated and do not cause any discomfort.
After all, with a dental prosthesis, as with any foreign material in the mouth, it is important that, on the one hand, only absolutely compatible material is used. On the other hand, the exact fit plays a very important role and should not be underestimated here. Otherwise, inaccurately fitted solutions only cause discomfort, which can, however, be avoided.
Impression-free scans with CEREC Primescan
Forget about taking the old cumbersome impressions. With our CEREC Primescan we can make a much better & more accurate "digital impression" without having to make an impression. This technology is very accurate, saves patients the impressions and also saves time. With digital impressions, a laser scans the surfaces of the teeth and gums. The software converts the scanned data into 3D images, which can be checked directly by the dentist. If you want to learn more about this - watch the short video and see for yourself.
3D Planning - Digital Smile Design
With special software, intraoral 3D scans and photos of the patients, treatments can be planned digitally. These plans are especially important for aesthetic work in the sensitive anterior region. Tooth movements with Invisalign, treatment with veneers and other treatments can be visualized well.
Cad/Cam - Milling
Dental prostheses (crowns, bridges, implant crowns, etc.), splints and temporaries can be designed on the computer after digitalization of models or directly after intraoral scans and then milled in great detail. Plastics, metals and also ceramics are used here.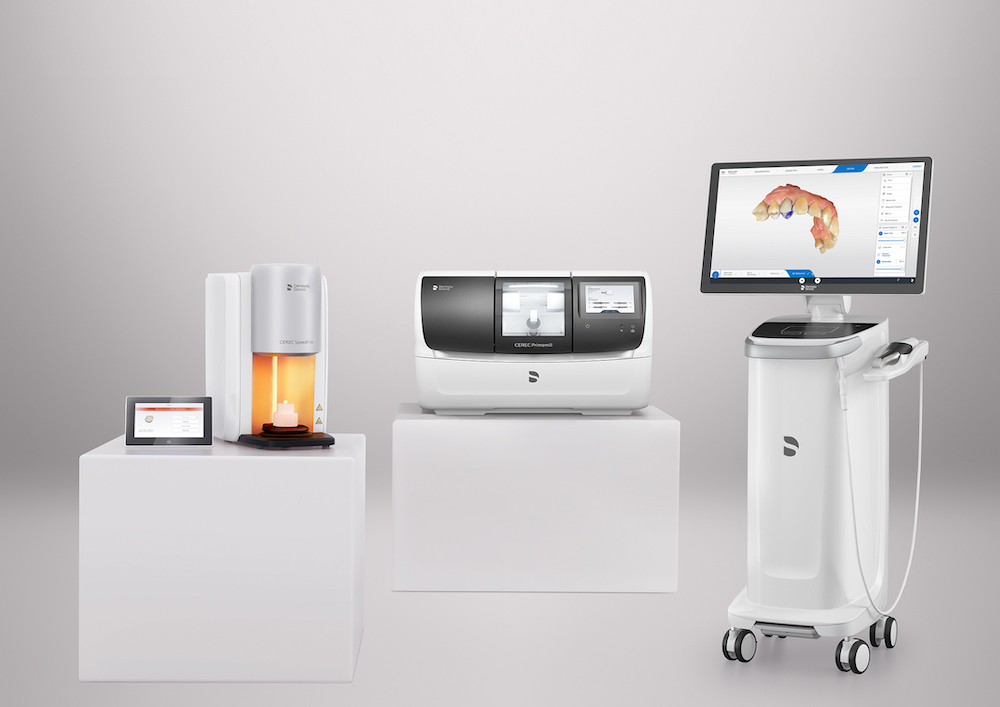 3D printing
With 3D printers it is possible, for example, to print models after an intraoral scan. Bite splints, drilling templates and temporaries can be printed. The DLP process is used, in which the workpieces are produced from liquid plastics by UV light curing. Of course, only biocompatible materials are used (class IIa medical products).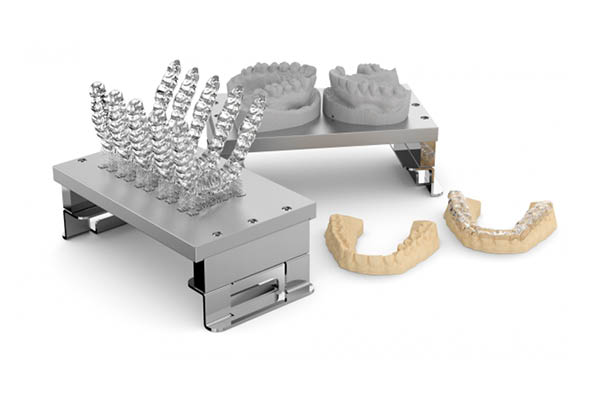 FAQ about CEREC dentures in one session with us in Munich
In the following, we will take a closer look at some of the frequently asked questions regarding CEREC dentures. If you have any further questions, please do not hesitate to contact us at any time.