Aligner treatment with Invisalign & SureSmile in Munich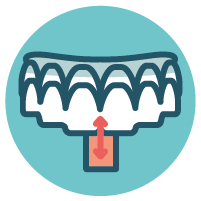 What is Invisalign aligner treatment?
Aligner treatment offers a virtually invisible way to straighten teeth. Using advanced 3D computer imaging technology, Invisalign maps out the complete treatment plan based on your Invisalign user's prescription, from the original position of your teeth to the desired final position. Then, a series of clear aligners are custom made for your teeth to move them piece by piece.
Correct malocclusions with aligners - without noticeable braces
With Invisalign or SureSmile aligners, you can get the smile you've always wanted without much effort. In fact, you hardly have to change your usual daily routine to get it. Tooth misalignments are corrected with Invisalign and SureSmile through a series of aligners that are custom-made for you, making them very comfortable. These removable aligners are almost invisible on the teeth. Every one to two weeks, you insert a new pair of aligners - and gradually, week by week, your teeth move to their intended final position. Comfortable, transparent and removable, with no restrictions on your daily life. To date, over 5 million patients have been treated with Invisalign.
After treatment with Invisalign aligners
After completion of the treatment it is necessary to keep the teeth in the position they have reached. This is done with the help of a retainer. This can be done in the lower jaw with a small wire behind the teeth, or special thin splints can be worn at night in the upper and lower jaws. These also protect the teeth against tooth wear during nightly grinding.
Quick appointment for Invisalign treatment in Munich
If you are interested in aligner treatment with Invisalign or SureSmile in Munich or simply want to learn more information about it, do not hesitate and make an appointment with us. Our friendly team will help you to find an appointment quickly. Either you make an appointment directly at our practice in the Asamhof, or contact us in advance by phone if you have more questions about Invisalign/SureSmile. Click here to go directly to our contact - we look forward to hearing from you!
Frequently asked questions about Invisalign Aligner treatment in Munich