Invisalign Treatment Munich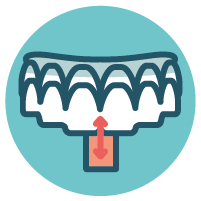 What is Invisalign?
The Invisalign treatment offers a practically invisible way to straighten the teeth. With modern 3D computer technology for imaging, Invisalign displays the complete treatment plan based on the prescription of your Invisalign user, from the original position of the teeth to the desired final position. Then a series of transparent aligners is made individually for your teeth to move them piece by piece.
Correct malocclusions with Invisalign - without noticeable braces
With Invisalign you will get the smile you have always wanted without much effort. In fact, you hardly need to change your usual everyday life for this. With Invisalign, malpositioned teeth are corrected by a series of aligners that are individually made for you and are therefore very comfortable. These removable splints are almost invisible on the teeth. Every one or two weeks you insert a new pair of aligners - and gradually, week by week, your teeth move to their intended final position. Comfortable, transparent and removable, without restrictions in daily life. More than 5 million patients have already been treated with Invisalign
How does Invisalign work in Munich?
Invisalign aligners move the teeth through precisely controlled movements. Unlike conventional braces, Invisalign treatment not only controls the range of movement of each aligner, but also the time of movement. Thus, in each treatment stage, only certain teeth are moved according to the Invisalign treatment plan for the respective stage. This results in an efficient power transmission.
Invisalign - the almost invisible treatment for straightening teeth for your perfect smile.
With modern scanners and a special 3D computer technology, based on impressions of your teeth, a complete treatment is planned virtually and your individual splints are made. Each splint changes your tooth misalignment by approximately 0.2 mm.
Step by step to the perfect bite with Invisalign
The respective splints must be worn at least 18 hours a day, for a maximum of 14 days at a time. In order to create space, it may be necessary to reduce the contact points between the teeth. In the case of large tooth movements, inconspicuous tooth-coloured buttons (attachments) are glued to the teeth to increase the surface area and the "lever effect" (force anchor).
Which bite malocclusions can be treated with Invisalign?
In the following we will show you common malocclusions of the teeth, how they occur and what the dangers are. If you have similar problems, don't worry - all these malocclusions can be treated easily and invisibly with an Invisialign treatment in Munich.

Gap status

Missing teeth and gaps between teeth can lead to gum problems (due to the lack of protection provided by the teeth), periodontal pockets, and an increased risk of periodontal disease.
 
bottleneck
A tooth condition can worsen over time and lead to very crooked teeth. This crowding can lead to increased plaque, tooth decay and a higher risk of gum disease.

Deep bite
A deep bite can cause gum problems or irritation and/or abrasion on the lower teeth and painful jaw and joint problems.

Cross bite
The cross bite causes one or more upper teeth to bite on the inside of the lower teeth. This can cause tooth wear, gum disease and bone loss.

Open bite
An open bite can interfere with chewing or make it painful and can even affect pronunciation. It can also cause bigger problems, such as craniomandibular dysfunction (CMD)
How long does the Invisalign treatment take in Munich?
The total duration depends on how complex the treatment is. In general, the duration of treatment corresponds to the length of a therapy with conventional braces. We can tell you more about this at your initial consultation.
After treatment with Invisalign aligners
After completion of the treatment it is necessary to keep the teeth in the position they have reached. This is done with the help of a retainer. This can be done in the lower jaw with a small wire behind the teeth, or special thin splints can be worn at night in the upper and lower jaws. These also protect the teeth against tooth wear during nightly grinding.
What does Invisalign cost in Munich?
As with other orthodontic treatment methods, the costs of Invisalign treatment depend on the complexity of your case for tooth straightening and the course of treatment. In general, the cost for adults is comparable to traditional fixed braces and is usually between €3,500 and €6,500, but if only minor tooth movement is required, prices can start at under €2,000. However, only the practitioner can determine the exact costs.
Quick appointment for Invisalign treatment in Munich
If you are interested in an Invisalign treatment in Munich or simply want to learn more information about it, do not hesitate and make an appointment with us. Our friendly team will help you find an appointment quickly. Either you make an appointment directly at our practice in the Asamhof, or contact us in advance by phone if you have more questions about Invisalign. Click here to go directly to our contact - we look forward to seeing you!